Tired of Reading? Please listen to the blog
On Friday, September 13, 2019, 33 medical students were presented with white lab coats, the traditional attire for healthcare professionals, bearing Texila American University's logo. The Ceremony, held at the University's new contemporary-designed Providence Campus marks the official start of their medical school journey. The keynote speaker for the event was Dr. Navindranauth Rambaran, Chairperson of the Medical Council of Guyana. Other speakers included: Dr. Hugh Duckworth, Chief Academic Officer; Dr. Jeffrey Antonio, Associate Dean for Clinical Affairs and Dr. Dheeraj Bansal, Dean, College of Medicine.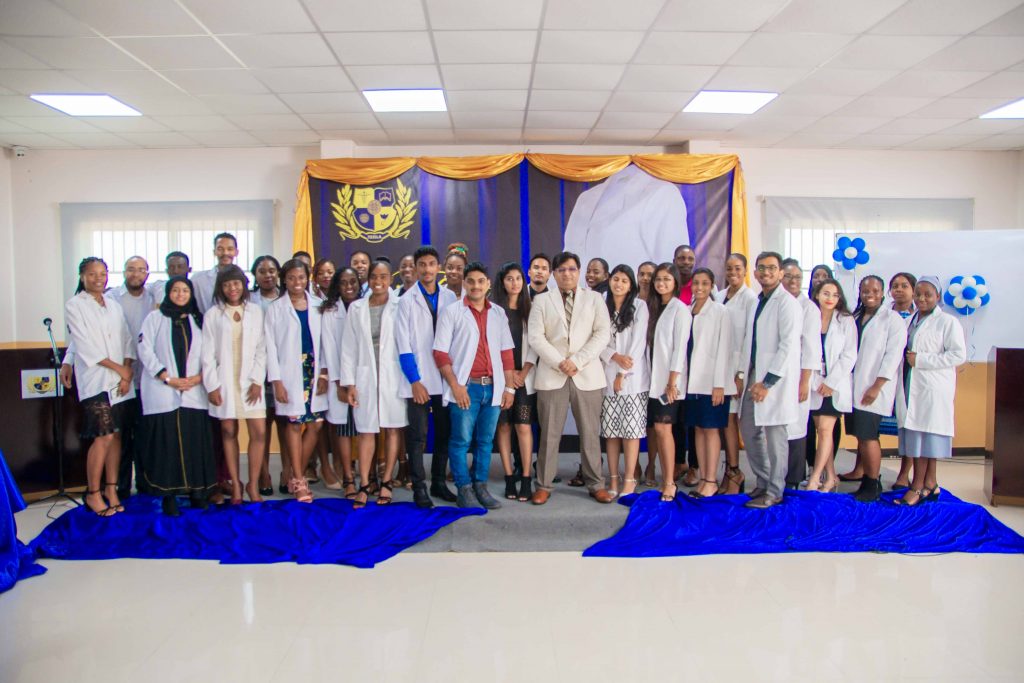 The Ceremony included each of the new students reciting a version of the Hippocratic Oath, acknowledging their commitment to serving humanity with honor, compassion, and dignity, after which a white medical coat was draped upon each student's shoulder. The white coat marks the induction into the medical profession and the transition to becoming a part of the clinical team. It symbolizes the vow to provide comprehensive and compassionate patient care; the oath to define each patient as a person and not their illness, and the promise to keep the patient's best interest at heart.
Dr. Jeffrey Antonio spoke about the significance and importance of the White Coat Ceremony while Dr. Dheeraj Bansal introduced the faculty members of the College of Medicine and shared some words of encouragement as the students progressed into their MD level. The white coat was placed on each student's shoulders by the Chief Guest, Chairperson of Medical Council Guyana, Dr. Navindranauth Rambaran and Dr. Dheeraj Bansal.
The class was selected from a pool of 1,046 accepted applications for admissions for the medical school. The diverse class is 54 percent female with students hailing from Guyana, Africa, India, and the wider Caribbean.
The Faculty and Staff of Texila American University would like to extend well wishes to all students as they formally begin their medical career paths with the institution. The ceremony not only marks the beginning of a medical career but also the vow to become a lifelong learner as a physician.